Stellar Avon Diamond Rings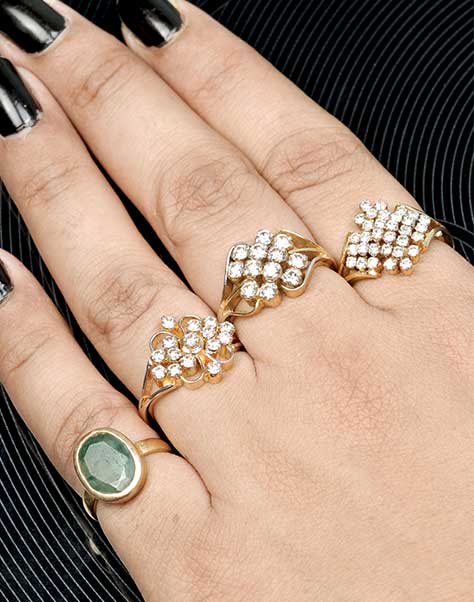 Diamond rings exude brilliance that is meant to last for a lifetime.
With their style, value, and beauty, it's no wonder that diamonds are one of the most incredibly popular gemstones today. It is not only their rare physical simplicity but also their exceptional rigidity and durability that make them a perfect representation of success and nobility.
Diamonds were first used for decoration and medicinal purposes in the early years. Nowadays, these magnificent stones are incorporated into dazzling jewelry, from earrings, necklaces, bracelets, and, of course, rings.
While diamond rings are wonderful choices for weddings and engagements, they are now made into a fashion statement beyond marriage. At Portofino Jewelry, our Avon diamond rings come in different sizes, cuts, and styles, that are perfect to embody lasting love and commitment or to complete and elevate any outfit.
Our expert team pours their passion into handcrafting one-of-a-kind pieces just for you. We exceed industry standards by offering diamond rings of the highest quality, design, and presentation. With years of being industry leaders, we have gained extensive knowledge in helping you choose the perfect jewelry for you and your loved ones.
Why Choose Portofino Jewelry
Portofino Jewelry has been a trusted source of custom-made jewelry pieces in Avon, Colorado, since 1998. With over 23 years of experience, we have been dedicated to offering you quality Avon diamond rings to turn your style into a whole new concept. Here's how we remain the most trusted jewelry store:
1. Diverse Jewelry Collection
The style of diamond rings has evolved throughout the years. Today, there is a numerou of shapes, cuts, and even colors to choose from. Whatever your personality and particular needs are, there's always a perfect diamond ring to reflect your style.
At Portofino Jewelry, we offer a broad array of meticulously crafted Avon diamond rings to cater to the diverse needs of our clients. Our team of experts is always ready to assist you in the process of creating your gorgeous ring, from the design to actual production.
2. Customer-Focused Services
Diamonds exude the type of class and elegance that no other gemstones can offer. Preserving their appeal requires the best and most gentle care. Portofino Jewelry believes that diamond rings are excellent investments, so it is vital to maintain their shine and luster.
Our team provides top-notch services, including jewelry cleaning, repair, and adjustments. We are knowledgeable in all things related to jewelry. Whether it be Avon gold rings with diamonds or other types of ring metal adorned with precious gemstones, we can provide you with the reliable services you need.
As the style, shape, and use of diamonds evolved, a wide variety of jewelry pieces emerged, giving us many options to choose from. At Portofino Jewelry, we offer different styles and designs of diamond rings, whether rings with magnificent centerpieces or rings lined with small yet elegant melee stones.
Our collection features timeless pieces, from contemporary and sleek modern style jewelry to vintage Avon diamond rings. When you share your design preferences and ideas with one of our talented artisans and skilled goldsmiths, we can also create magnificent diamond rings with your personal touch.
Our Avon Diamond Ring Collection
Many things go into choosing the diamonds that will perfectly complement the ring metal, setting, and style you choose. One popular way to determine the value of the diamond you are eyeing is by looking at the 4Cs—color, cut, clarity, and carat.
Highly valued diamonds are colorless, precisely cut, and have few blemishes. At Portofino Jewelry, we recognize the significance of diamonds as the perfect centerpiece of any ring. Our store feature selections of Avon gold rings with diamonds of different cuts and silhouettes, such as:
Round
Pear
Radiant
Oval
Marquise
Princess
Emerald
Cushion
Heart
Ascher
Contact Portofino Jewelry Today
Express your love for class and glamour through the stunning diamond rings from our collection.
Portofino Jewelry is the primary source of the finest rings in Colorado. From classic, cathedral, solitaire, and vintage Avon diamond rings, we feature the style that is right for you. If you need help finding out what diamond or ring setting will work for you, our friendly team will be delighted to assist you anytime.