Finest Avon Wedding Rings
Wedding rings are the ultimate way to seal and represent long-lasting love.
Rings have carried various meanings and symbolized many things throughout history. When it comes to weddings and engagements, they are known as emblems of timeless love and commitment. For many couples, they are used to express loyalty, promise, and devotion.
The symbolism of long-lasting love is closely tied to the wedding ring's natural shape—a circle. The circular shape has no break and end, which makes it a perfect representation of never-ending love. It's for this reason that rings have always represented eternity, wholeness, and perfection.
While the symbolism of wedding rings has remained the same for countless generations, their most significant meaning can only be told by the bride and groom themselves. With more wedding options available than ever, choosing the style and material that will perfectly tell the story of your love can be quite a challenge.
At Portofino Jewelry, we feature a diverse selection of Avon wedding rings, spanning from the most intricate designs to the most simplistic styles. Our years of experience equip us with the understanding of what makes the perfect wedding ring. Our expert team will walk you through our collection and help you choose which one speaks true to your promise of love and devotion.
Choosing the Perfect Wedding Ring
Every couple has ideas of what ring style and design they want. Some may want simple gold-plated wedding bands, while others may want wedding rings lined with colorful gemstones. Regardless, the choice is up to you and your partner.
At Portofino Jewelry, we understand the challenge of choosing the best wedding ring that works for every couple's vision, considering the options available. While we offer an incredible array of ready-made Avon wedding rings from famous brands worldwide, we also customize rings to fit your and your partner's personalities and styles.
Here's a quick guide to get you started on choosing the perfect wedding ring:
1. Consider Your Lifestyle
Since wedding rings are an expression of a couple's love for each other, they are meant to be worn every day for a lifetime. For this reason, the wedding ring you choose should suit your lifestyle.
Portofino Jewelry offers a diverse collection of Avon wedding ring sets for every type of personality and lifestyle. We feature stylish yet practical designs for those with active lifestyles to ensure that their wedding rings stand the test of time and remain brilliant.
The exchange of rings is one of the most wonderful moments during weddings. It is essential to know the correct ring size for you and your partner to ensure that this perfect time will not be spoiled by the mistake of getting tight or loose wedding rings.
At Portofino Jewelry, our Avon wedding ring sets come in different sizes to fit different ring sizes. Our staff can help measure your ring size to ensure precise measurements. We also have a size chart that you can use.
While some couples may choose to have the same metal type, some may also prefer different metals to suit their particular taste. What matters the most is that the characteristics of the metal they choose for their rings represent their connection.
Portofino Jewelry offers wedding rings made of different metal types, colors, and styles. Aside from Avon sterling silver wedding rings, you can find rings made of yellow gold, platinum, white gold, and rose gold from our collection.
There are various styles of wedding rings available today, from traditional to modern. Finding the perfect one that meets you and your partner's preferences can be quite challenging.
At Portofino Jewelry, we offer a wide array of Avon wedding rings that come in different styles, whether channel-set, comfort fit, half-round, pipe, pave, or prong-set wedding rings. Should you need help choosing your wedding ring, our staff can give you insights into what style complements your personality.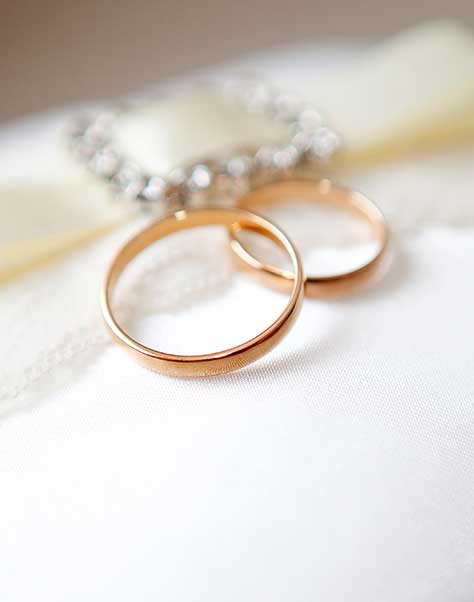 Why Choose Portofino Jewelry
Portofino Jewelry has been offering a stunning selection of Avon wedding rings since 1998. Our team is equipped with cutting-edge knowledge to help you choose the right wedding band to highlight your love, respect, and commitment for each other.
We offer wedding rings, engagement rings, and other bridal pieces from various brands worldwide, so you can fully make the most of the best moment of your lifetime. If you want to add your personal touch, our highly skilled team pours their passion into creating custom design pieces and offers you something one-of-a-kind.
Portofino Jewelry features high-quality rings from various brands and leaders in the wedding band industry. Aside from Avon sterling wedding rings, we also offer pieces made of other classic metals. Here are some of the wedding rings and bands from our store:
"Hemera" Twist Diamond Band
"Hera" Diamond Tracer Wedding Band
"Lyria" Leaves Diamond Eternity Band
"Harley" Silhouette Diamond Power Band
"Charites" Diamond Wedding Band
"The Saint" Wedding Band
"The Palau" Wedding Band
"The Kaleidoscope" Wedding Band
"The Assasin" Wedding Band
Contact Portofino Jewelry Today
Find the right set of rings to celebrate and remember the best day of your life.
At Portofino Jewelry, we offer distinctively beautiful bridal pieces to mark the beginning of your marriage journey. We also offer eternity bands if you want to renew your wedding anniversary. For more information about our collection, contact our friendly team today.